'When I get a new idea or think about something that I would like to do, that inspires me a lot. I start to think about the whole process of making it and when I start I can paint for hours.'
Recently I sat down with creative John Blond to talk about his eye-catching brand, Noodles by John Blond, that is popping up in some of the coolest corners of his hometown Catania and beyond. With its roots in graffiti and influences from John's profession as a graphic designer, Noodles by John Blond exudes playfulness and experimentation. Whether you have encountered his work before or this is the first time, the striking, organic black lines contrasted on artificial, acidic hues of yellow, pink and blue make an indelible impression.
What three words would you use to define your style?
Bold, coloured, recognisable
John is no newbie to art and design. Starting at age twelve with the spray cans sold in his parent's tobacco shop, he experimented with lettering. Finding difficulty with creating perfectly straight lines, John's willingness to embrace this deficiency and instead harness it for his unique Noodles design led to the creation of his brand. John's love for decoration guided him to explore reproducing his design on plates and bottles, and since then, the distinctive squiggly pattern, reminiscent of the bold, confident lines of Keith Haring, has brought an energetic edge to surface design across a growing list of objects and spaces. Noodles adorn walls, both public and private, as well as clothes, ceramics, furniture, and even Instagram filters. The simple yet bold design looks set to be translated to just about any medium imaginable.
Can you name three artists – from any discipline – that influence your practice?
I really like the work of Shantell Martin, Camille Walala and Shira Barzilay.
Having lived in London for the past four years, John is candid about some of the cultural and creative differences between the UK's capital and his hometown of Catania. But since returning to Catania in March this year due to the pandemic, John has taken full advantage of his connections across Sicily's creative communities, which has opened the door to many exciting collaborations that have allowed his brand to keep on growing. Collaboration is also a way of working in which John thrives, and when talking about his recent live painting at co-working space Isola Catania, he explained that far from feeling nervous, painting, even in front of others, is where he is most relaxed.
One of his recent collaborations includes his clothing collection launched with Ibridi Shop, which offers bespoke designed and handmade fashion pieces. From start to finish, the garments are handcrafted, with Noodles hand-painted directly onto the fabric.
John delved further into the world of interior design during his collaboration with Jenko17, where for their reopening John created fifty Noodles chairs. Situated in the idyllic and slightly other-worldly seaside town of Aci Trezza, there is something captivating about the contrast of the decorated chairs against the jagged lavastone coast and ultramarine water.
One of John's favorite collaborations was with Tinkitè, an independent cafe on the beautiful Ortigia island in the southeast corner of Sicily. John particularly enjoyed this project for how he was able to use his brand to upcycle objects, namely plant pots, and give a new lease of life to objects that could otherwise have gone to waste.
If you could collaborate with anyone, alive or dead, who would it be?
I would love to collaborate with many brands, some of them are Nike, Seletti, IKEA.
I would love to collaborate with the artists I mentioned previously. Collaborating with them would be a dream come true.
As well as working as a graphic designer, John manages his growing online creative platform, Bounty Hunters. Originally started as an online blog for graphic design inspiration, it has evolved into an immersive creative experience, now also featuring curated playlists and its own podcast.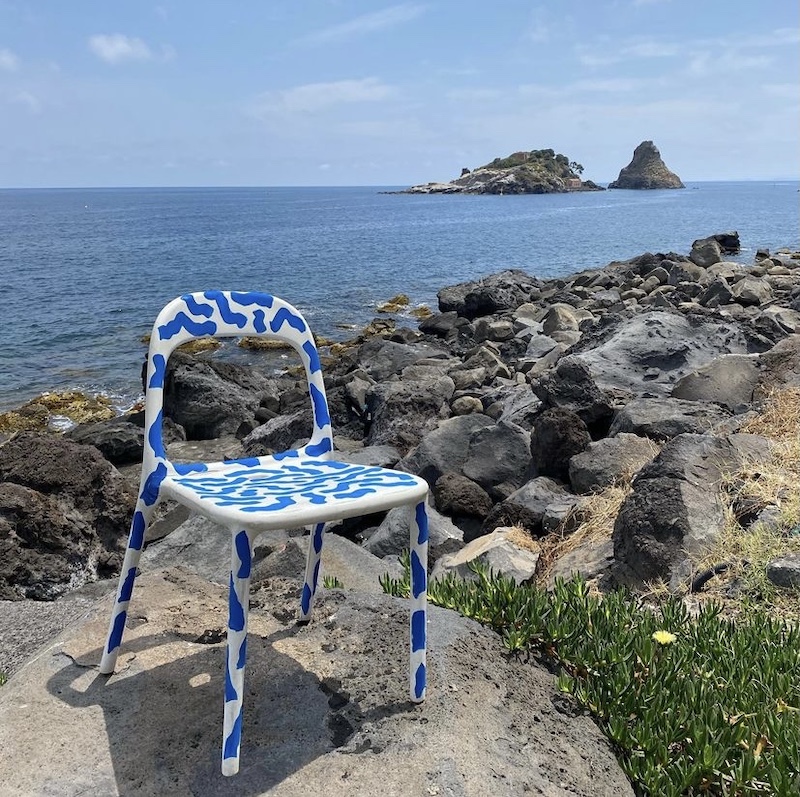 Maybe surprisingly, despite his varied creative endeavors, John doesn't like to label himself an artist. Instead, he places his focus on continually learning new skills and methods in a wide variety of media to keep his practice fresh, evolving and continually expanding. This openness to new ideas and ways of doing things certainly comes across both in person and through his work, and it has led him to develop skills in many areas of design across web and print, from e-commerce through motion graphics.
Have you got some future projects underway that you are particularly excited about?
I'm working a lot to design new products for my brand and I have a couple of bookings already to decorate things and places. One of these will be a massive ceiling. I'm really excited about that!
John is truly a multidisciplinary creative, with an openness and versatility that leaves just about every possibility open to be explored in his future designs and projects – we can't wait to see what they are!